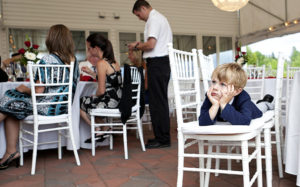 Weddings are such joyful events – for adults. Most kids don't find them as wonderful. And when kids are bored, they are more apt to be disruptive – not much fun for their parents and those around them. Even if adorable children serve as the Flower Girl or Ring Bearer at the ceremony, they would have much more fun being enteretained by Jus' Go Play than they would at the reception! So how do you make sure your friends and family who have children can enjoy your wedding? Have Jus' Go Play entertain the kids!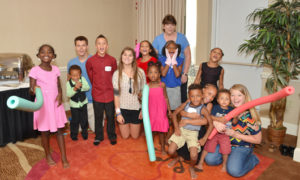 When you are planning your reception, scheduling the caterer, DJ, and the florist, schedule Jus' Go Play, too. We'll talk with you about your venue, and how many kids you anticipate will be attending with their parents, as well as their approximate ages. We will want to ensure that there will be appropriate space for us to be entertaining the kids. We will provide the appropriate number of staff for the number and ages of children anticipated, using State guidelines.
Jus' Go Play will bring whatever we need to provide entertainment for the kids while their parents attend your wedding. If a meal is provided for the adults, we recommend a kid-friendly meal being provided for the kids – pizza and chicken fingers are always a hit and we'll make sure they're fed! This will give the parents the freedom to relax and enjoy your beautiful wedding, knowing their children are well-cared for and right near by.
You focus on the adults,
Jus' Go Play will entertain the kids!
For more information, or to schedule an event,
call us at (336) 284-2099 today!